Anal orgasm
Horny ass stretching with orgasm. With a real full bladder hard fucked in the ass with a huge brutal dildo. Kind of a real unbelieveable hot and horny feeling. Very very hot if someone fucks your asspussy while you got a well filled bladder, with a huge dildo. First I was teased a bit with two of the power toys at my cunt and asscunt and after that my asscunt was filled and fucked hard with the enormous brutal black dildo. It is a real explosion orgasm, I can tell you and you can hear and see this on the video clip here. Just enjoy the free video trailer right now. The combination of this huge toy in my ass and the power vibration toy on my clit. Hmmmm. Squirting and peeing the same time. Some of you asked or I love assfisting? I am working on it as you can see, there is nothing much left you you will see it soon, I look forward to my first ass fisting. Maybe with Trish, I am not sure at the moment. Now for all of you - have a nice weekend and take care.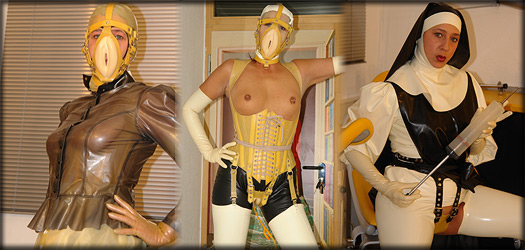 Hundreds of rubber and clinic stories!
More medical BDSM galleries from Spekula:


Your #1 clinic fetish and bizarresex magazine!
See all patients in these BDSM hospitals: