Bizarre anal stretching
Brutal dildos for my asscunt bizarre and extreme. I am searching for better musturbation results all the time, cause I love it. What makes me most horny, what is the ultimate satisfaction. You know that I love asssex and you even know that I masturbate anal with dildos often. So, I search for the ultimate asstoy and this is not so easy, belongs a bit to the situation. From time to time a bit longer, a bit bigger, both of it. Perfect is the combination from a toy in the asscunt and a vibrating toy for the clit the same time. My orgasm is much more intensive with the toy in the ass or with two toys for pussy and ass. You maybe remember, that the doc told me to have more asssex. Smile. Lets have a look what he will say the next time I am in the office. Anyway here I got a real monster dildo in the ass, with diameter 6 cm or a bit more. hmmm, so big, so hard and finally so horny. I loved it to be assfilled to the max this afternoon. Enjoy me here with the big and bigger toys in my fuckholes. Yours assfuck loving Ina.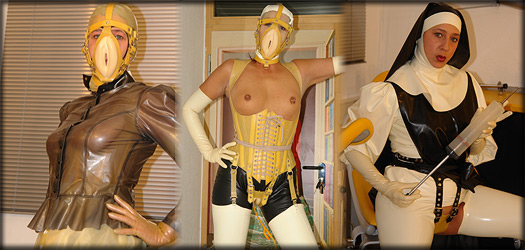 Hundreds of rubber and clinic stories!
More medical BDSM galleries from Spekula:


Your #1 clinic fetish and bizarresex magazine!
See all patients in these BDSM hospitals: