Bizarre driving
On the road with pissbag and catheter. Again a bizarre rubber video outside and on the road for you. In one of Americas most famous trucks in rubber with catheter and pissbag on the motorway. The driver must concentrate on the traffic, so I got my personal bizarre fun in the back, first a nice toy for my wet cunt and together with the inserted catheter a real nice experience and the pissbag was well filled, so I could have a kinky drink on the motorway. Normally inside the car you are alone and it is a more or less private situation, but undressed in black and red rubber, a complete other situation and I was not sure the drive was going a bit more slowly, when we have been next to a lorry or a bus, so that they could have a bit fun. Smile. This monster truck is real great and you probably know it. Amazing, so big and strong. Hmmm. Some assfucking and peeing on and in the truck after the ride on the motorway, what a lovely bizarre Sunday afternoon. I will do a bit more next week, really amazing. Now enjoy and have fun here with me.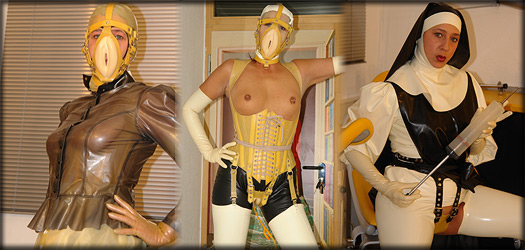 Hundreds of rubber and clinic stories!
More medical BDSM galleries from Spekula:


Your #1 clinic fetish and bizarresex magazine!
See all patients in these BDSM hospitals: