Bizarre sweet enema
The ass filled with vanilla cream. I did it a few times and wanted to do it again. It is warm and perverted. First some nice assfucking and rimming with my rubberslave, after this a huge rubbercock fucking my asspussy, so my asspussy is ready for the vanilla cream enema. The slave is allowed to give it to me, 3 times so my ass is filled up to the max. I can hold it only a little while, so I adviced him to lick my asshole very slowly and of course he did. So horny, hmmmmm. First only a little cream came out, but I was not able to hold it back and so the slave was covered over and over with the sweet warm cream. Take a look at the pics or enjoy the cream enema trailer here right now and you know what I mean. Next time you are out for shopping and you see some vanilla cream, think about what you can do with it. Such horny perverted games. A great difference is, that the cream is not as liquid as water. You must check it out, I can not explain. It is not only another enema, it is complete a new experience. Have fun here, sweet bizarre fun.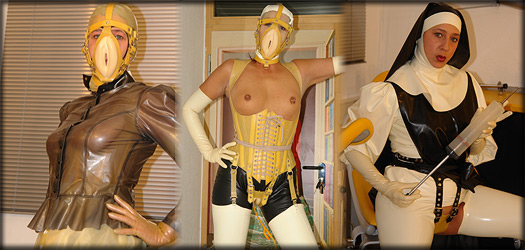 Hundreds of rubber and clinic stories!
More medical BDSM galleries from Spekula:


Your #1 clinic fetish and bizarresex magazine!
See all patients in these BDSM hospitals: