Pumping and fisting
Vacuum pumping and fisting the big pussy. Jannique and myself layed down on two gynchairs close to each other and we both got a vacuum pump on our pussys. Enjoying the sucking from the pump together. After about 15 minutes pumping I wanted Jannique to lick my pumped cunt and of course she did with pleasure. She came up from her gynchair and licked me. Hm, what a perfect feeling. My pussy was real big and horny tickling. After some minutes I want to play a bit with hers and the best was to fist her big pumped cunt. Hmmm, perfect I can tell you. I never fisted such a big one. Smile. Have a look at her pussylips at my rubber gloved hand. Good ha? It was real double fun for us both. Jannique simply enjoys a hole hand in her pussy, pumped or not, she loves it and you hopefully will love our wet big fucking holes here. Enjoy and have fun while pumping and of course while licking and fisting. Just drop me a line if you have any other fisting or bizarre idea and I will have a look what I can do for you. Yours pumped cunt Ina.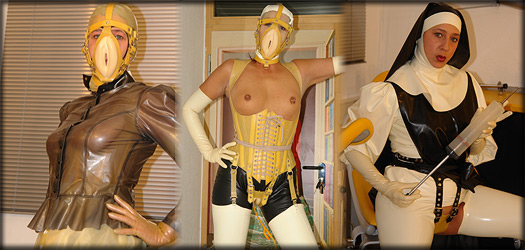 Hundreds of rubber and clinic stories!
More medical BDSM galleries from Spekula:


Your #1 clinic fetish and bizarresex magazine!
See all patients in these BDSM hospitals: