Rubber gloves enema
Fill up the gloves inside the ass as an enema. As I told you last week, I got a kinky idea with the long rubbergloves, while playing with them. I got one in my asspussy and it feels so good. Why not filling up the glove with warm water, kind of a special enema, while the glove is in the asspussy? What do you think? Kinky idea ha. But first I played again with one of these long rubbergloves, into my wet pussy and very slowly pulling it out, while masturbating. My bladder was properly filled, so a double intensive orgasm and another idea. Peeing into the glove, hmmmm so warm and horny. After this, again the glove into the asscunt completly and filled up with warm water. I can not explain the feeling. Getting an enema, without getting wet inside. Crazy. Try it out and you will know what I mean with it. It was really a horny bizarre game to play and the rubberglove was filled up inside my ass. Hopefully you enjoy it like I did. Kind of a special wet and dry enema. Have fun with it here right now on your bizarre rubber site number one.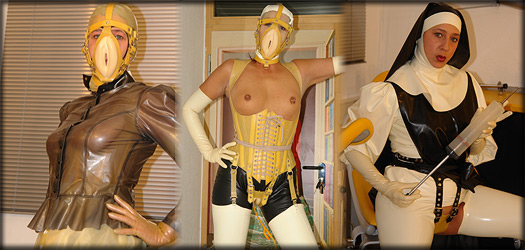 Hundreds of rubber and clinic stories!
More medical BDSM galleries from Spekula:


Your #1 clinic fetish and bizarresex magazine!
See all patients in these BDSM hospitals: